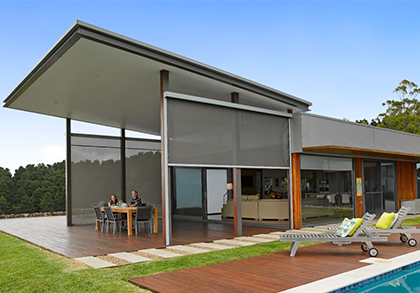 AWNINGS – WE HAVE A WIDE VARIETY FOR YOU!
Awnings are roof-like structures, often made of plastic or canvas, which serves as a shelter over a storefront, door, window or deck. These are canvas roofs supported by frames to give protection against the harsh weather. It is also time and again constructed with aluminum sheeting. Awnings are used for both commercial and residential purposes. The major use of awnings is sun protection, it cuts sun glare and ultraviolet rays indoors & outdoors, they offer shade and also minimize heat. Different kinds of awnings are widely available. Awnings are visually stunning and go with the architectural design of any office or home.
The following are a few of the awnings available at Drowell Blinds. Each and every kind of awning has its own advantages:-
Residential awnings – Those which are installed in houses are called residential awnings. These awnings might be retractable, stationary, metallic, vertical, window awnings & canopies.
Retractable awnings – It provides you with quality, durability, and affordability which complement your house. It has sufficient slope so that it can protect patios from the rain. These are made with a water-resistant fabric. It protects indoor spaces from fading while keeps the room bright. Retractable awnings reduce heat and use of air conditioners, thus saving energy. It brings beauty and charm to the building.
Outdoor awnings – These awnings are good-looking and in many cases, a very practical addition to homes and offices.
Shade awnings – Canopy is a roof-like covering supported on pillars over a statue, an altar or a fountain. Awnings are always fixed to a building. It might be metallic, wooden, or canvas. On the other hand, canopy has a canvas or cloth covering.
Deck awnings – It is a kind of awning that is engineered to endure extreme weather conditions. It provides you with beauty & sun protection.
Versatility of awnings:-
It cools interiors of houses, reduces air-condition costs, has low maintenance.
It provides you with good health, by reducing excessive heat, protects from UV rays, rain, harsh sun and inclement weather.
It provides you with shade, various levels of privacy, comfort, and expands commercial space for clients and customers.
Care & maintenance of awnings:-
Remove dirt on your awnings as soon as possible.
Utilise only cold or lukewarm water, soap and a brush to wash the awnings.
Between deep cleanings, it is good to every so often rinse awnings with clear water.
If you are living in a warm, humid climate, it becomes compulsory to clean the awnings over and over again.