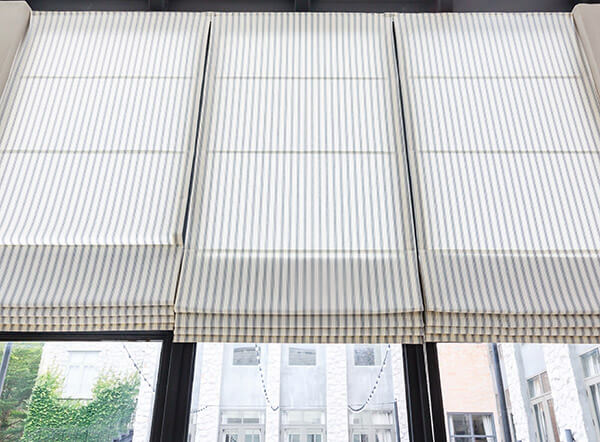 ROMAN BLINDS – AN EXCEPTIONAL WINDOW TREATMENT!
Window blinds are one of the most popular items people pick for home improvement projects. Among all the various kinds available,Roman Blinds with all probability are standing at the top of the list.
Roman blinds are more often than not presented as windows blinds that fold horizontally. They are ideal for blocking light and they're preferred by many home owners who wish to add a luxurious look to their houses. Roman blinds come in a broad range of fabrics, textures & patterns. There is a whole palette of colours to pick from, with delicate shades & bright tones. All these styles are available on the Internet, to suit all possible tastes & preferences, not to mention budgets!
Elegance is in all probability one of the first words which spring to mind when you think about Roman blinds. It is something special observing them being installed on the windows, giving rise to a special feeling. Refinement is so simple to achieve with these and it is no wonder that there are unnumbered styles available. Lightweight materials are utilised on a regular basis for making Roman blinds. The finish is classy and sleekness is preferred for these kinds of blinds.
Far from being just enchanting, roman blinds have other goals to accomplish. First of all, they proffer protection against sunlight. The level of protection differs according to the style chosen. For case in point, blackout lining offers the highest possible level of protection. For complete light blockage, you can add a liner to them. Used in all rooms of your house, these window blinds are found in the bedroom more often than not. They give people the rest needed and that is why you find them in lounges.
Many people decide to choose Roman blinds for their dining windows. They enjoy the high-quality and the soft touch of the fabric. There are numerous styles available, encompassing fully lined & blackout Roman blinds. Standards blinds have a manual system of operation but most shoppers want to opt for deluxe products with new, innovative mechanisms. These have trendy designs, filtering sunlight to the amount one desires and enhance the look of your room.
Custom roman blinds can be found online at affordable prices & amazing models. Deluxe shades are made from high-quality materials, with styles extending from casual to elegant, suitable for any home decor. With woven patterns and numerous fold style choices, roman blinds are among the hottest trends as far as interior designing is concerned. Modern blinds are made from rich & exquisite fabrics. Some have a classic look while others demonstrate a contemporary taste. Conventional roman blinds remain just as famous and there are others offering a rustic look.
Roman blinds are both beautiful & functional. They are very easy to install and operate. There are numerous styles to pick from if you buy from the Drowell Blinds. There are several undeniable benefits of Roman Blinds, including light blocking and insulation. New colours and patterns keep invading the blinds market, just like the fold-style options. Customization is possible if you contact Drowell Blinds!