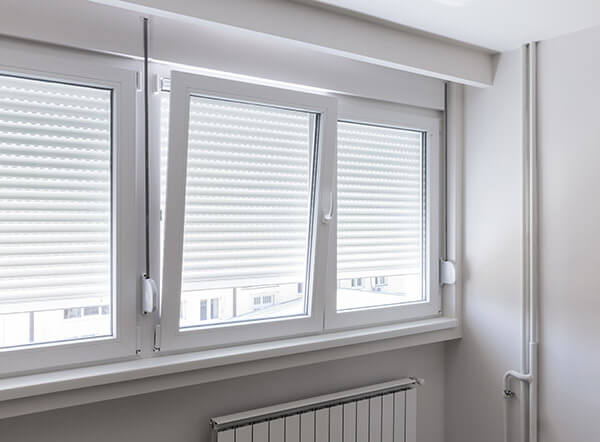 BLOCKOUT BLINDS

– ELEGANT AND FUNCTIONAL
Blockout blinds have a very elegant and attractive design. They fit into and enhance all kinds of decors. These are among the most commonly utilised blinds in the world.
Blockout Blinds:-
Proffer remarkable versatility
Permit light control
Permit privacy
Have efficient functionality
Permit insulation for your house
Blockout Blinds have the below material options:-
Sunscreen
Blockout
Light Filtering
There are many fabrics that offer almost a never-ending amount of colour and design choices. All fabrics also have fabulous UV ratings which enable you to prevent your furnishings within your house.
Where are the blinds used?
Bedrooms: Blockout materials are the most utilised material option for bedrooms. Blockout material offers privacy and blockout of light from outside at any time when the blind is down, be it day or night.
Kitchen: Sunscreen & Blockout materials are the 2 most used materials for the kitchens. The selection is dependent on how much privacy an individual might be searching for. There are materials obtainable that are more appropriate for wet, damp areas than others.
Offices: Sunscreen materials are the most used materials in offices. They offer light and heat reduction to help you at different times of the day. Blockout blinds can be utilised in areas that might need light reduction like conference rooms.
Living Areas: All 3 material options are commonly used in Living areas. The option is in the individual's hand. One alternative is to make use of combination brackets & have dual Blockout blinds. That means you can make use of the sunscreen option whenever you wish to, in general during the day, and blockout option, usually after dark.
Bathrooms: Blockout materials are also the most used materials for bathrooms. It offers privacy as needed. There are materials obtainable that are more appropriate for damp areas than others. 'Light Filtering' materials can also be utilised as they provide filtered light with desired privacy.
Operation and Key Features:-
There is a huge range of base trims to complement your individual personality and style.
All blinds come with a sidewinder for smooth and easy operation and are available with a chain safety device utilised to tension the chain in agreement with child safety rules and regulations.
Combination brackets are obtainable upon request to provide you the choice of having light filtering and blockout features during the day and at night.
What maintenance is needed?
Blockout blinds can be cleaned easily by making use of the steps below:-
With a damp cloth used on minor stains
With a vacuum cleaner used against dust build up
For any major type of cleaning it is highly recommended that you follow the guidelines of the fabric manufacturer. These will time and again be supplied to you with the purchase of the product. You can also make immediate contact with the famous and reliable blind supplier – Drowell Blinds, if you are in need of more detailed information about blockout blinds and their materials.